Lakeside Chiropractic utilizes these various ways to care for our patients. The following list highlights some of the more specialized methods.
COLD LASER THERAPY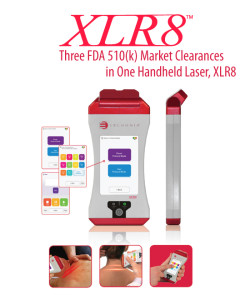 The Erchonia XLR8 is a new weapon to effectively treat pain without harmful side effects!
Low level laser therapy (LLLT) or cold laser, is a painless, sterile, non-invasive, drug-free modality that is used for a variety of conditions such as, acute and chronic pain, body-contouring, acne and cellulite. Housed within the mitochondria, the cell energy manufacturer, are receptors capable of absorbing distinct parameters of light. Think of these receptors like any drug receptors. When we consume a prescription medication, the compound is absorbed by the body and it locates a particular receptor, and based upon its molecular design, will bind to that receptor. Once the drug binds, a secondary reaction inside the cell takes place. A similar mechanism is observed when exposing the body to a particular color of light. During a laser treatment the light will penetrate the skin and is absorbed by this receptor within the mitochondria. Receptor stimulation with light promotes energy production, biochemical reactions, protein and growth factor synthesis, cell growth and proliferation and enhanced blood and oxygen flow.
SPORTS REHAB & EXTREMITY ADJUSTMENTS
Sports rehab and extremity adjusting is for the athlete or very active patients…
PREGNANCY ADJUSTMENTS
When you are pregnant it doesn't mean you have to be in pain.  We adjust women at all stages of pregnancy.
ACTIVATOR
The activator protocol uses a small instrument to aid in the adjustment. The adjustment is extremely low force and requires the patient to only lay on their stomach. We use this technique on the elderly and those whose muscles may be too tight to adjust other ways. If the patient prefers we can adjust anyone with the method.
DIVERSIFIED TECHNIQUE
Diversified technique is basically a grab bag of various specific techniques that are rolled into one. The doctor manually (uses the hands) to apply a thrust to the back or neck in a specific location and at a specific direction. This is the typical technique that gives the "crack" sound.
The HydroMassage bed is composed of a traveling jet system for a full body massage that provides customizable pressure ranges.  It also has Water-Thru-Air
Technology for maximum massage pressure. HydroMassage is a comfortable, convenient, and affordable alternative to hands on massage. In as little as 15 minutes, HydroMassage provides a powerful massage.  Massage therapy has been used for hundreds of years to provide relaxation and to promote the healing process. HydroMassage is an alternative form of massage therapy that temporarily helps to: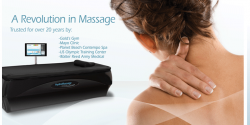 Relieve muscle tension
Promote relaxation
Relieve stress and anxiety
Increase blood circulation
Reduce muscle soreness
Increase muscular range of motion
LUMBAR FLEXION/DISTRACTION
Our version of a distraction table, this table focuses on the low back and is a manual distraction controlled by the doctor.
NUTRITIONAL CONSULTING/SUPPLIES

We utilize and retail Metagenics, Wellgenix and Protocol as our nutraceutical providers. Dr. Tina has had many classes on different approaches to nutrition and identifying the probable deficiencies and how we can help. She is also certified as a Therapeutic Lifestyle Provider (through Metagenics).  Our nutrition programs include assistance with weight loss.
PHYSICAL THERAPY
To get complete care of the bones and muscles we offer on-site PT for your convenience that includes muscle stimulation, ultrasound, active therapies and much more.
SACRO OCCIPITAL TECHNIQUE (SOT)
This is our lowest forced technique that uses gravity for manipulation.
THOMPSON DROP TECHNIQUE
This technique is low force and uses a drop incorporated on the table to speed an adjustment.
Life-Strength wristbands offer a performance advantage that goes beyond balance, strength or flexibility tests. These are not just another version of a rubber power band. Through their Syionic90 technology the band combines comfort and performance, supplying more negative ions than any other self-labeled Power Bands/Bracelets.  Below are some of the benefits of negative ions that have been proven through independent research:
Anti-Oxidizing – US Dept. of Agriculture found that anions led to 52% less dust in the air and 95% less bacteria.
Emotional – 25 people tested with Seasonal Affective Depression found that anion treatment proved to be as effective against S.A.D. as antidepressants without the side effects of these drugs.
Immune System – Norwich Union Insurance Group:  Reduced incidents of sickness and headaches by 78% when exposed to 1000 anions per c/c. (LifeStrength Bands Avg. 1200)
Aging – Dr. Nagao Katsharu, Japan found that skin cells were replaced at 2.5 times the normal speed by accelerating the delivery of oxygen to the cells and tissues.
Respitory – Swiss Textile Mill – 66% fewer sick days when exposed to anions at 1000 units per c/c.
Sleep – 1969 French Researcher found most people exposed to high levels of anions were able to sleep better.
Mental Performance – Anions increase the flow of oxygen to the brain; resulting in higher alertness, decreased drowsiness and mental energy.
If you have any questions about any of these methods or services we offer please do not hesitate to call us to clarify anything for you at (847)587-0003 or use the contact us page.